RACHEL CHANDLER CHIROPRACTOR
COVID-19
After some changes the clinic is now open again. Clients must wear a face mask and gloves and Rachel will wear PPE including face mask, gloves and disposable apron. Covid triage and consent forms must be completed by clients prior to an appointment. Temperature check and hand sanitiser provided on arrival.
Animal clients can also be seen, with facemask and gloves worn by Rachel and owner/handler.

Remote consultations
Since the Covid-19 lockdown the popularity of remote consultations has increased, especially for those shielding, in the moderate to high risk health groups, or those self-isolating. There is nothing worse than being in pain and not being able to get help. Rachel can now offer remote consultations via Zoom facetime or whatsapp. If you require a remote consultation or would like to find out more, phone Rachel on 0787947555 or email rachelbchandler@hotmail.com.
---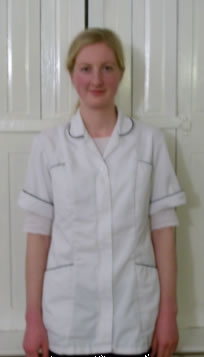 Rachel has always had an interest in the mechanisms of both human and animal bodies and being a back pain sufferer herself decided to study this subject area in more detail so that she could help herself and those around her.
Over the years Rachel has gathered a broad range of useful information on subjects ranging from human and animal anatomy, physiology, biomechanics, injury mechanisms and various rehabilitation techniques. On this quest of knowledge she also gained qualifications in human and animal Chiropractic and remedial massage.
Rachel also undertakes annual CPD to ensure that her work is up to date and evidence based where possible. The information gathered over the years enables Rachel to find helpful approaches for a person's condition/injury.
Rachel now offers a variety of helpful services such as:
For People
For Animals